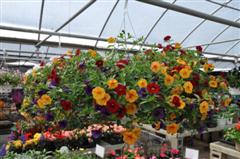 Stop by and see our selection of perennials, herbs, annuals and hanging baskets in our greenhouse. Each season the selection changes, so stop in often for constant suprises.
Cool off in our Shade Garden!
Over 250 varieties of Hosta & shade-loving plants await you!
MANY GREAT BRANDS AVAILABLE:

George Carruth

Humming Bird Feeders

Frog Lovers

Herbs, Perennials, Annuals

Bird baths

Woodstock Wind Chimes - Hand tuned!
Current Hours
Gift Shop
Monday - Thursday 10:00am - 6:00pm
Friday & Saturday 10:00am - 7:00pm
Sunday 11:00am - 5:00pm
Lunch
Tuesday - Friday 10:00am - 3:00pm
Saturday 10:00am - 2:00pm
Sunday Brunch 11:00am - 3:00pm

1285 Winery
Wednesday & Thursday 4:00pm - 10:00pm
Friday 4:00pm - 11:00pm
(Live Music 6:00pm - 9:00pm)
Saturday 2:00pm - 11:00pm