PLEASE NOTE: We are currently unable to ship any plants due to the heat. Blueberry Plant shipping will resume in September, when the temperatures are cooler.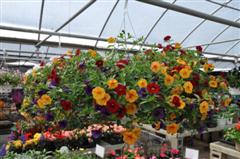 Stop by and see our selection of perennials, herbs, annuals and hanging baskets in our greenhouse. Each season the selection changes, so stop in often for constant suprises.
Cool off in our Shade Garden!
Over 250 varieties of Hosta & shade-loving plants await you!
MANY GREAT BRANDS AVAILABLE:

George Carruth

Humming Bird Feeders

Frog Lovers

Herbs, Perennials, Annuals

Bird baths

Woodstock Wind Chimes - Hand tuned!