PLEASE NOTE: We are currently unable to ship any plants due to the heat. Blueberry Plant shipping will resume in September, when the temperatures are cooler.
Come, browse North Central Ohio's most unique and complete gift shop!
With over 4,000 square feet of gifts and home decor to explore, you're sure to find gifts for any occasion. Including a variety of fine jewelry, handbags, baby gifts & candles. Many items are made right here in USA and Ohio!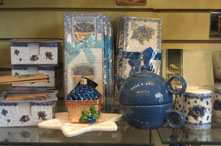 The Blueberry Patch Gift Shop has three open houses each year, as well as various workshops & teas at Blossoms Cafe.
There's plenty to feast your eyes and our selection is always changing. Stop by and relish how many beautiful things you can find for your home & garden. Herbs, perennials, annuals, hanging baskets will abound from the first of May throughout summer. Garden bird baths, chimes & accents are available all year.

Carrying Vera Bradley's stylish quilted cotton luggage, handbags and accessories; smart product designs with distinctive and colorful fabrics and trims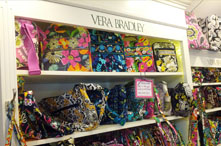 Candles from Root, Bridgewater, Votivo, Woodwick and Colonial, gift cards, decorations, kids gifts, and much more...
Our jams, jellies, syrups, and pies make great gifts from home!
Everything needed to enjoy your fresh blueberries!

Our greenhouse selection of baskets, silk flowers, garden accents, bird baths, potter, accessories, and plants are sure to please the pickiest of gardeners!