The 2022 Fresh Blueberry Season has ended. Frozen berries, jams, pies, donuts, and more are available year round in our retail gift shop. Lunch, dinner, shopping... there's always a reason to visit The Blueberry Patch!
Thank you for a fruitful season!
The Beilstein Family & Staff
Are you on our email list? Mailing list members get first notification that picking season has begun! Sign up by entering your email address in the box near the bottom left.
Call for picking conditions before traveling.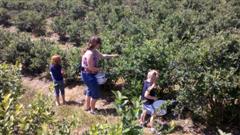 Our fields are ready for you and your family to enjoy.
So come on out pick your own fresh off the bush.
Remember frozen blueberries and blueberry pies
are available in our gift shop all year long.
Blueberry Season typically runs from late June to September
The Blueberry Patch features U-Pick blueberry fields, from June thru August. Already picked & frozen berries are also available.

We currently grow over 27 varieties of blueberries, each with their own ripening times, which helps us to extend the season as long as possible.
U-Pick blueberries are purchased by the pound, and weighed when you are done picking. We even provide buckets for you, and carry the matching lids so you can seal and freeze your own blueberries.
Bring your bucket back to us, when you return to pick more and save for recycling!
We Welcome Families & Provide Buckets..
You pick your own at U-Pick pricing!
We Grow Over 27 Varieties of Blueberries.
Already picked pint, 3 & 6 pound buckets available.
Individual Pints also available.
Call today! For pricing, current availability and Order Information
Current Hours
Gift Shop
Monday - Thursday 10:00am - 6:00pm
Friday & Saturday 10:00am - 7:00pm
Sunday 11:00am - 5:00pm
Lunch
Tuesday - Friday 10:00am - 3:00pm
Saturday 10:00am - 2:00pm
Sunday Brunch 11:00am - 3:00pm

1285 Winery
Wednesday & Thursday 4:00pm - 10:00pm
Friday 4:00pm - 11:00pm
(Live Music 6:00pm - 9:00pm)
Saturday 2:00pm - 11:00pm