As Ohio's Premier Blueberry Plantation, The Blueberry Patch propagates hundreds of thousands of new blueberry plants every year. Countless farms and home gardens have purchased their plants right here at our nursery.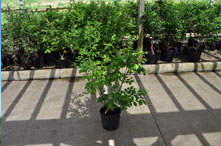 We strive to help you produce large, productive blueberry plants for your own family.

This is your opportunity to buy direct from a knowledgeable, experienced, hands-on grower who has been propagating blueberries for over 20 years.
WHY BLUEBERRIES:
Blueberries are high in vitamins and antioxidants. In fact studies have shown that the blueberry is the leader in Total Antioxidant Capacity (TAC). While rich with Vitamin C, manganese and dietary fiber, the blueberry remains low in calories, sodium and has no cholesterol. A great addition to any diet.
Blueberry plants are native to North America. Not only have Blueberries been grow commercially in the US, but throughout our nation's history, countless farms and home gardens have featured their berry patches.
Blueberries weren't just grown for their great taste, the bushes start out the year with delicate white flowers, turning to bright blue berries, then end the season with vibrant red fall foliage making them a beautiful landscape plant.
Blueberries are popular in the US because of their unique flavor and ease of preparation. Simply eaten fresh or incorporated into pies, jams, jelly, pastries, juice, or any of your own fine recipes, blueberries are very easy to prepare. Our own gift shop even features a cookbook dedicated to the versatile uses of the blueberries.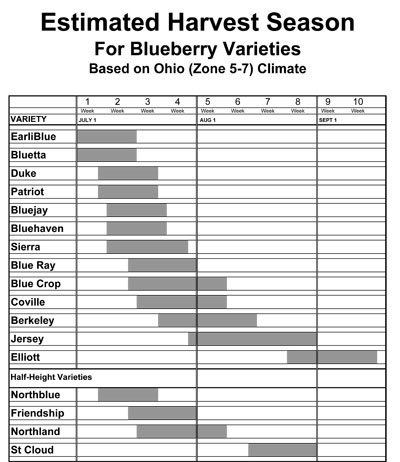 BLUEBERRY VARIETIES:

Early Season:
Duke - This variety is very vigorous and productive. A large light blue berry which is pleasantly firm and mild. An excellent quality berry..Read More...

Patriot - This highly productive plant is tolerant to less the ideal soils and are have some of the highest fruit yields. Read More...

Blue Jay - This variety is very vigorous and grows rapidly. Its fruit is produced in large loose clusters making picking easy. Read More...

Mid Season:
Sierra - A hybrid of southern, northern, and wild blueberries which has had success in many climates across the US. Read More...

Blue Ray - Large, very light blue berries with excellent flavor. The leading variety in U-Pick Markets. Read More...

Blue Crop - The leading mid season highbush variety in the US. An upright, vigorous bush, which is highly productive. Producing large firm berries in a bright blue. Ornamental value is high with its lush green color turning fiery red in the fall. Read More...

Berkeley - Easily picked by hand, with large open clusters. Used as an ornamental spreading bush with large green foliage. Read More...

Late Season:
Jersey - One of the oldest and most dependable varieties. Considered the best berry by most connoisseurs. Read More...

Elliott - With high yields, a late harvest, and good shelf life, this variety can bring the largest return per acre. Read More...
Current Hours
Gift Shop
Monday - Thursday 10:00am - 6:00pm
Friday & Saturday 10:00am - 7:00pm
Sunday 11:00am - 5:00pm
Lunch
Tuesday - Friday 10:00am - 3:00pm
Saturday 10:00am - 2:00pm
Sunday Brunch 11:00am - 3:00pm

1285 Winery
Wednesday & Thursday 4:00pm - 10:00pm
Friday 4:00pm - 11:00pm
(Live Music 6:00pm - 9:00pm)
Saturday 2:00pm - 11:00pm