Nurserymen, Landscapers & Growers!
Interested in large orders from hundreds of plants to thousands or more!
Please contact Steve for quantity pricing and availability at (419) 564-1823
Here at The Blueberry Patch we strive to produce large productive Blueberry Plants for your nursery and customers.This is your opportunity to buy direct from a knowledgeable, experienced, hands-on grower who has been propagating Blueberries for over 30 years.
As Ohio's Premier Blueberry Plantation, The Blueberry Patch propagates hundreds of thousands of new Blueberry Plants every year. Countless landscapers, nurseries, farms and home gardeners have purchased their plants right here at our nursery.
Our plants are available in the following sizes: bare root 8-12"(1 year old), one gallon 16-24"(2-3 years old)
BLUEBERRY VARIETIES: The Blueberry Patch propagates these varieties: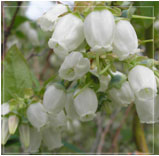 Early Season:
Blue Jay - This variety is very vigorous and grows rapidly. Large loose clusters make picking easy.
Bluetta - A late blooming, early ripening variety perfect for colder climates. Good for landscaping.
Duke - A vigorous and productive blueberry variety. Pleasantly firm and mild. An excellent quality berry.
Northblue - A half-high very cold-hardy bush, with a sweet acidic taste that is good for baking.
Patriot - This highly productive plant has some of the highest fruit yields.

Mid Season:
Berkeley - Easily picked by hand. Used as an ornamental spreading bush with large green foliage.
Blue Crop - The leading mid season highbush variety in the U.S. Produces large firm berries.
Blue Ray - Large, very light blue berries with excellent flavor. The leading variety in U-Pick Markets.
Bluehaven - This compact bush is good for ornamental use. Excellent cross pollinator.
Coville - One of the older blueberry varieties. With large tart berries good to eat fresh.
Friendship - Small hardy bush loves cold and most soils. Produces small but flavorful berries.
Sierra - A hybrid of southern, northern, and wild blueberries which has had success in many climates.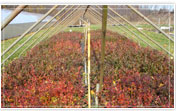 Late Season:
Elliott - With high yields and a late harvest, this variety can bring the largest return per acre.
Jersey - Extremely vigorous and consistent producer of medium sized very sweet fruit.
St Cloud - This mid-size bush is a great fruit producer. With large, dark, tasty berries covering the bush.
Current Hours
Gift Shop
Monday - Thursday 10:00am - 6:00pm
Friday & Saturday 10:00am - 7:00pm
Sunday 11:00am - 5:00pm
Lunch
Tuesday - Friday 10:00am - 3:00pm
Saturday 10:00am - 2:00pm
Sunday Brunch 11:00am - 3:00pm

1285 Winery
Wednesday & Thursday 4:00pm - 10:00pm
Friday 4:00pm - 11:00pm
(Live Music 6:00pm - 9:00pm)
Saturday 2:00pm - 11:00pm